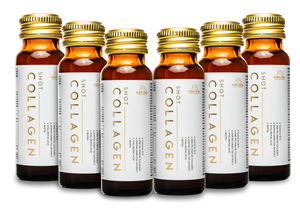 Pura Vida Naturals Collagen Shots is made with a unique blend of all-natural ingredients boosted with hyaluronic acid, making this drinkable collagen shot one of the best on the market for youthful, glowing skin.
Your free sample includes 6 full-sized bottles of Pura Vida Naturals (50mL), each containing a blend of 5,000mg of marine collagen and powerful antioxidants. Drink it straight or mix it with your favorite beverage. Just one serving a day can produce noticeable results.
There is no obligation or subscription required to get your free 6-day sample.
We are simply giving away our product for free - because we are new - we want you to taste how delicious it is and to see for yourself how your skin may be restored and replenished.
Of course, we do hope that you love it so much that you come back to place an order on your own and tell all of your friends about us.
Please note that you will be charged $3.95 for shipping and handling of the product to cover USPS postage. Other than that, there are no additional fees.
So - go ahead, give us a shot!
*Limited to 1 trial per household